Our extensive range of advanced printing equipment and cutting-edge ink technologies allow us to print on almost any substrate. 
With years of experience and our leadership position in the field, we bring the most sophisticated print capabilities to discerning clients who demand the best. Our efficient production system ensures the lowest price possible on orders for short runs or high volume, and we deliver each job on time.
CREATING QUALITY SIGNAGE
WITH IN-HOUSE CAPABILITIES
We support five types of machines to ensure that our clients have access to the finest printing resources. Our adoption of the latest and most advanced equipment gives us broad signage capabilities. Each piece of equipment has unique abilities that contribute to the high-quality materials that we produce every day.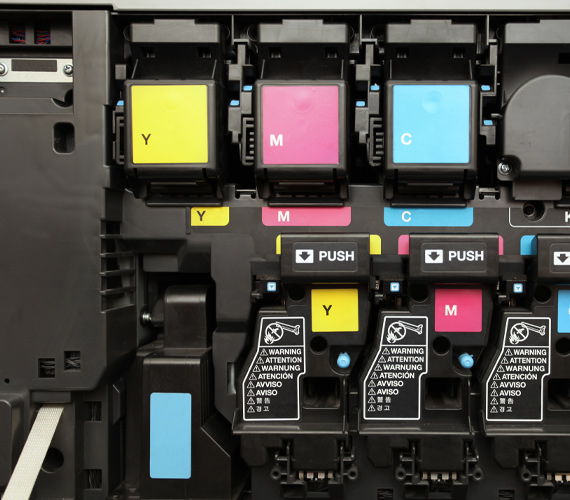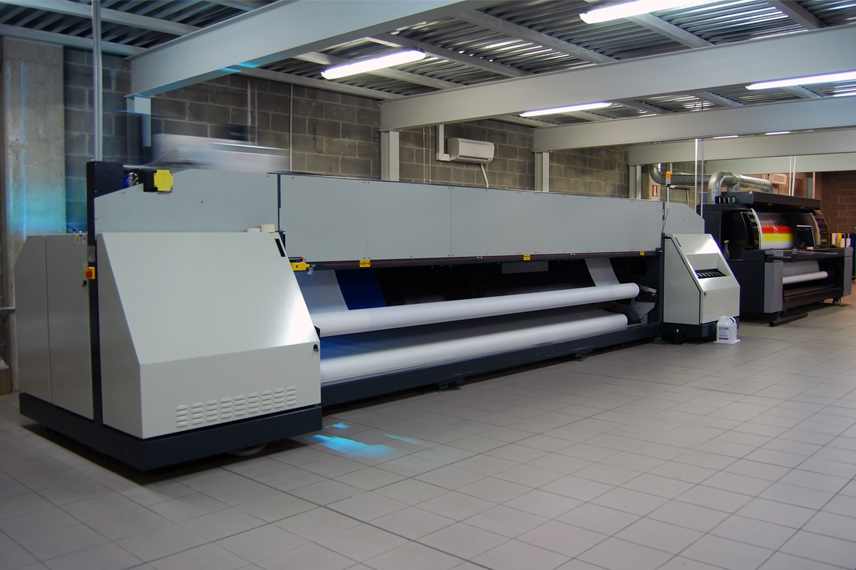 As a practical option for smaller quantity printing runs and the ones that come in at the last minute and need a quick turnaround, digital capability offers superior quality and flexibility. A highly responsive technology, the process gives clients a fast and efficient choice for on-demand print jobs with considerable conveniences. In addition to letting clients receive completed projects faster than ever thought possible, the process also allows changes to the images in each impression. We offer access to variable data to respond to the needs and preferences of our clients. With the labor savings that our system produces and the technological advantages with our digital presses, we can offer an alternative to large print runs that deliver thousands of sheets affordably.
Our digital printing facility produces the highest quality prints with state-of-the-art equipment. For a single piece or thousands and with or without the personalization of pictures, we offer our worldwide clients a satisfying experience. Our technology lets us provide a convenient solution for composing, customizing, archiving and distributing documents. We provide digital B and W, variable data and image personalization, web-based individualized URLs and campaign tracking with cross-media marketing.
EFI SUPERWIDE LED
ROLL-TO-ROLL PRINTER
Precision imaging on our EFI VUTEK Legacy Printer, the EFI VUTEk GS5500LXr Pro, delivers the exceptional quality that clients need for outdoor applications, fleet and vehicle graphics and much more. LED curing and our EFI VUTEk GSLXr 3M™ SuperFlex UV Ink produce an unprecedented level of detail, resolution, smooth color transitions and high-definition quality. With eight colors and the option to include white in printing, we can meet the most demanding exceptional quality requirements. Our EFI Pro 32r+ contributes outstanding quality to our Roll-to-Roll Printer production capability and provides a green print solution that responds to customer requests.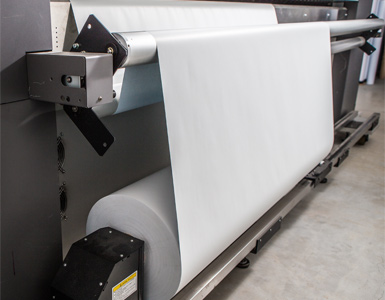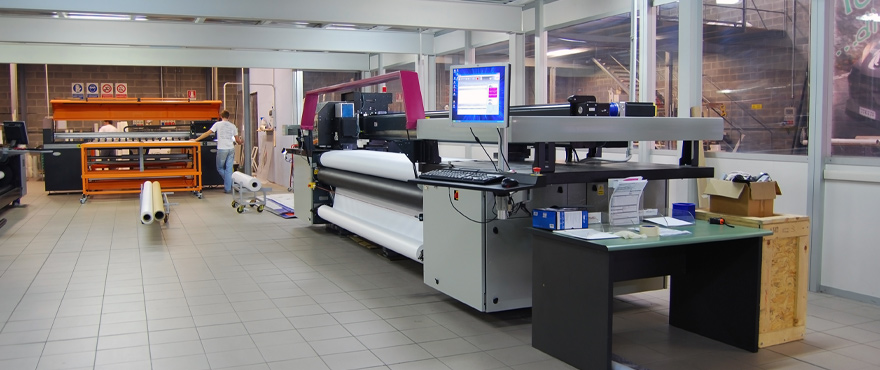 EFI SUPERWIDE HYBRID
FLATBED PRINTER
Capable of producing excellent resolution and high definition, our printer offers a green printing solution in eight colors plus white ink on jobs with high margins. With UltraDrop Technology, it produces attention-getting images in consistently bright and accurate colors on virtually any surface. For effective indoor or outdoor brand identities, the printer can deliver strikingly memorable images with ink density levels that produce remarkable results.
Our printer/cutter creates a level of quality that exceeds the requirements of discerning clients. The TrueVIS VG2-640 uses newly developed inks to produce the color modes that allow detailed color reproduction. With an incredible range of color choices, the VG2 large format inkjet equipment prints and cuts precisely the specialty items that clients require. We produce exceptional quality on vehicle graphics, posters, prints and materials that carry a brand image. Our professional expertise delivers the extraordinary quality that stands as our hallmark.
LARGE-FORMAT
FLATBED CUTTING SYSTEM
Our reputation for quality and excellence in printing complements our ability to meet our clients' schedule demands. We observe the most stringent requirements in every aspect of printing, and our ability to deliver orders assures clients of the prompt completion of projects on deadline. We honor a commitment to satisfying clients' needs, and we can meet last-minute deadlines to produce quality materials in short turnarounds when necessary.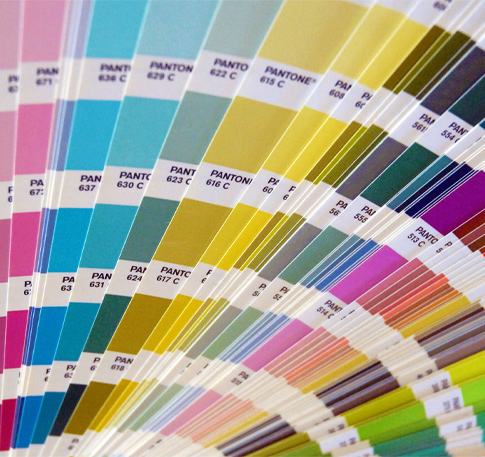 With our experience as a leader in the innovative and superior production of printed materials, Advanced Graphics maintains capabilities that meet discerning and knowledgeable clients' requirements. Our state-of-the-art equipment can produce Large Format Printing with extraordinary quality on a range of substrates for branded materials that deliver appealing messages and promote identity. We can print remarkable and memorable images on rigid signs, adhesive vinyl, banners and wallpapers.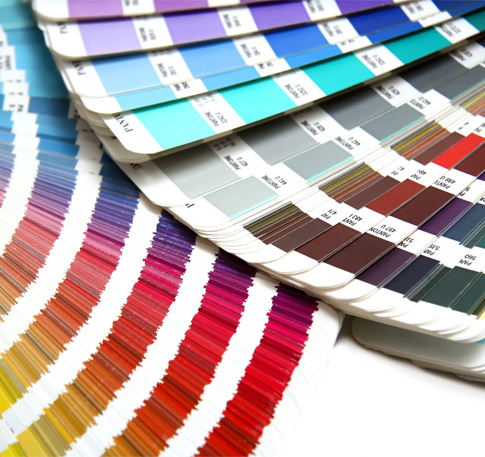 The practical aspect of digital printing on almost any surface enhances the attractiveness of using it for advertising, political and marketing campaigns, promotional events, grand openings, real estate sales and many more indoor or outdoor displays. We offer clients a choice of Rigid Substrates that may last indefinitely with reasonable care and storage. Our acrylic, aluminum, cardboards, coroplast, copper or bronze, corrugated plastic, foam, max metal, polystyrene ultra board, PVC, styrene and wood boards provide an excellent presentation of designs and graphics, logos or photographs. Our full-color printing on single or double sides in different sizes and large quantities on our Large Format Printing with flatbed printers can create the visual appeal that draws attention.
With dynamic displays for exhibitions, outdoor advertising, window graphics, building wraps and point-of-purchase location notices, we can offer clients a range of options. We can print on a wide variety of specialty textiles with our wide format and screen printing capabilities. Our process presents excellent results on short-run orders or high-volume requests for opaque or block-out, front-lit or backlit, indoor or outdoor, mesh, pole and pop-up. We finish our banners in-house, and we can meet client requests for extra grommets, pole pockets and reinforcements to meet unique specifications. Our goal of meeting each client's needs with dedication, innovation, professional expertise, and quality drives us to achieve our clients' expectation of perfection.
The extraordinary versatility of adhesive material allows us to create displays of every size and purpose with remarkable clarity and color. Our adhesive choices provide high performance in car wraps with UV laminate for extra protection. We offer cut pieces in single solid colors that may have a life span of up to eight years, and we can create squares or more complex shapes. Our translucent cut types in solids or print provide impressive backlit signs for up to 10 years. We can place custom graphics on reflective surfaces for dramatic effects on emergency vehicles. With advertising that clients can display on walls, floors or ceilings, our line of temporary adhesives that leave no residue works well for a range of applications. We can offer types that grip, and we provide samples for clients to use for testing. With static cling in clear or white, we can provide a writing surface for oil change dates or other important reminders. Brick and stucco walls, sidewalks, blacktops and other surfaces can accept our printed, conformable laminates. Our extensive line of vinyl products includes traditional roll labels that resemble mailing labels but have a higher quality level.
Dramatic changes in the appearance of indoor or outdoor walls with our creative, full and partial wall coverings can contribute to an ambiance that impresses customers. Our designs give clients decorative options that enhance retail shops, restaurants and hotels, manufacturing facilities and other establishments. Without producing harmful fumes or odors, our Type II commercial-grade wallpaper requires only a simple installation on a smooth surface wall with traditional wallpaper paste. The ease of removing it by saturation with water without defacing the wall makes it an excellent choice for decorating children's rooms, exercise spaces and special-purpose areas.